Jill in Motion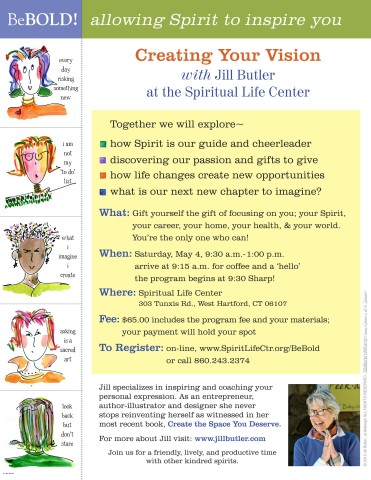 Join Jill Butler as she leads us in a workshop about "Creating your Vision," Saturday, May 4th, from 9:30 - 1:00 at the Spiritual Life Center in West Hartford, CT.

Together we will explore how the spirit is our guide and cheerleader.

Gift yourself the gift of focusing on yourself, your spirit, your career, your home, your health & your world. You're the only one who can!  Join us for a friendly, lively and productive time with other kindred spirits.To register on-line go to

or call: 860.243.2374

For more information click here to go the Spiritual Life Center's site.

 
Recently launched for the GE Women's Leadership Practices Program are their training materials that "honor" the participant with artfully crafted materials by Jill Butler… art&design. Using their content and our database with 10,000 works of art and the illustrated "Birds" we created their training manual that invites the participant to the table for learning.  As quoted by GE facilitator, Sandy Sullivan, "your creativity and tenacity (it took 3 years of holding vision for this to happen) has now, literally, colored GE in such a positive way". Their program has been global for years and now so are we as they leave for San Paulo Brazil!  This was an exceptional collaborative project where Sandy additionally noted, "it was a win-win for all. (Our collaboration began in 2008 with the banner and the 60 "Bird" choices. It was inspired with co-facilitator Nancy Schumann who was attending our Creative Intensive Program in our Chester, CT studio.)
Here's a testimonial from a participant who attended the launch program using the new materials.
Good Morning Jill,
Last week I had the opportunity to attend the Leadership Practices (LP) course at GE, led by Sandy Sullivan and Nancy Schumann.  Needless to the say, the course was phenomenal and the timing for me as a leader both personally and professionally could not have been better.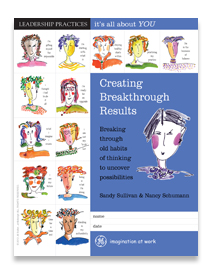 It is my understanding we were the first class to use the new, colorful binders filled with your inspiring artwork.  Even walking into the room the first morning of class, the artwork on the binder caught participants attention and set a positive tone for what was to come. Looking at each of the "Birds" and their mantras gave us pause to evaluate how they reflected in our lives; something we excelled at, something we wanted to be, or something we had not yet considered and now have front of mind for future breakthroughs.  As I sit here in my office with my chosen bird of "being is what I am doing" next to my monitor, I am reminded to remain present and to be inspiring and courageous as a leader through all my actions.
The combination of your birds, your artwork and the expertise of Sandy and Nancy made the course a wonderful experience of growth and renewed spirit.  On behalf of the April 23-24th Leadership Practices attendees, THANK YOU for your contribution to our memorable experience!

Kind regards,
Jacqueline, GE Health
IF YOU WANT TO REACH YOUR EMPLOYEES WITH MATERIALS THAT GRAB THEIR ATTENTION, WE'D LOVE THE OPPORTUNITY OF COLLABORATING WITH YOU!  IT'S SO FUN TO WATCH THE CLIENT'S CONTENT MATERIAL COME ALIVE ON THE PAGE.  jb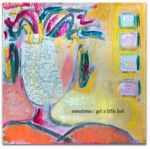 I am thinking about being, doing and having.  I've become obsessed with the idea.  "Being is what I am doing," ... get it?
Read more in the Shoreline Times or online in "Recently in Print" this Friday, May 19th.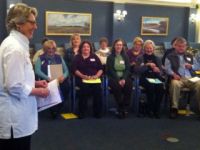 Here we are at The BIG Sweep, 42 courageous women and one VERY courageous man, who showed up at the workshop ready to be encouraged to clear their clutter just in time for our Child & Family 58th Annual huge Tag Sale.
Clearing our stuff is the first step to creating a vision.  Often what lives in our disarray are clues for our next new chapter waiting to be discovered.